Read the article in For Construction Pros
June 3, 2022 - by Charles Rathman
In a construction software environment where interoperability is essential B2W adds new application programming interfaces (APIs), adding value to estimating and other modules.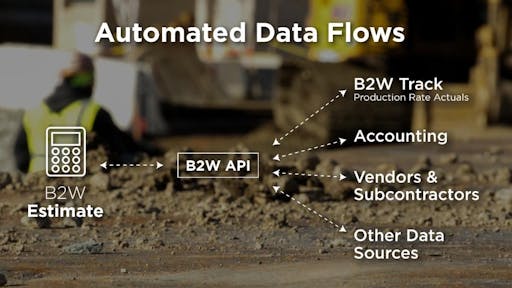 Portsmouth, N.H-based construction management application vendor B2W Software today released application programming interface (API) capabilities to support the construction estimating process.
The API provides streamlined connectivity between B2W and data sources used to generate estimates and surfaces Production Rate Actuals data so estimators can base their work on current and historical performance data from the field.
In a recent briefing session with ForConstructionPros, B2W Marketing Communications Director Greg Norris said that estimating has been a natural entry point for contractors adopting the company's construction enterprise software suite, designed to use business intelligence to form business plans, bid on infrastructure and commercial projects, manage operations, maintain equipment fleets. As the company has added value to its other modules though, contractors have begun to start their B2W journey from other entry points.
"The typical path years ago was for people to start with estimating then field operations," Norris said. "Now, we have people that come in at any entry point. Our modular approach is a workaround for the fact that it is hard to implement this software all at once, not so much from a technical standpoint, but due to change management. Some contractors may do it sequentially. Buy our ultimate vision is that we want them to implement the full platform. People can move towards the vision at any speed they want."
Sticking To Their Knitting
B2W got its start in estimating, and like other software companies serving heavy, civil and other types of contractors, has extended the data and solution into subsequent stages of the project lifecycle.
"Estimating was our original product," Norris said. "But we knew that once our customer wins the bid, they need to track the jobs in the field. So we added field tracking software. Then we added scheduling and dispatching, and software to maintain the equipment."
But the company, which employs between 100 and 120 people and unlike many emerging construction technology companies is self-standing with no venture funding, is not about to try to be everything to all contractors.
"We are remaining focused on heavy highway contractors, and expanding within our existing customer base," Norris said. "We are focused on continuous growth, but have not expanded beyond our expertise … we have not gone into accounting, or other peripheral fields."
For equipment maintenance, B2W Maintain focuses on maintenance inspections and preventive maintenance while connecting maintenance schedules to project workflows to maximize equipment utilization. Unlike competitors like HCSS, B2W does not offer a telematics solution.
B2W Tech Stack
"We are agnostic on telematics," Norris said. "Any telematics data can be imported into maintenance and scheduling. We have worked with (construction fleet management software vendor) Earthwave Technologies in the past."
As APIs become more performant and common in construction software, software vendors and contractors can more easily pick and choose which applications they want to handle what parts of their operation, all while losing little in the way of interoperability. B2W has been incrementally building out its portfolio of APIs. They also recently released an API for estimating that enables automation connecting estimating to a customer relationship management (CRM) application. APIs can also be used to communicate within the software suite, and another newer API helps connect the B2W Inform e-forms functionality with B2W Maintain, enabling a form filled out regarding equipment inspection to automatically trigger an equipment maintenance work order.
Very few construction estimating packages include functionality for takeoffs—with Stack Construction Technology being a notable exception. But again, interoperability with packages Bluebeam and other takeoff tools is essential.
B2W was developed as an on-premise software application but is now also sold on subscription, in a single-tenant solution hosted by Loadspring Cloud Platform, whitelabeled as the B2W Cloud. It can also be hosted on other cloud environments if a customer prefers, but thanks to performance tweaking and configuration by Loadspring, B2W can run up to 62 percent faster on the B2W cloud than on public clouds like Google, AWS or Azure, according to Loadspring.
Unlike many other enterprise software vendors, B2W is not taking a cloud-first strategy with new customers. According to sources at the company, the percentage of new sales going into a cloud environment are perhaps 20 to 30 percent. Competitors may use this fact to characterize B2W as a less progressive software vendor. Software vendors make more in the intermediate and long term from cloud subscriptions, and much of the push towards cloud and multi-tenant SaaS has to do with vendor what is lucrative for the vendor. According to B2W Senior Solutions Engineer Tom Willey, the company defers to customer wishes when it comes to where software is provisioned.
"It is vendors pushing one way or the other," Willey said. But if you give clients a choice today, it is 70-30 or 60-40. We let them do what you want."
Another significant upside of B2W's mature tech stack is the mobility of data from one part of the product lifecycle to the next.
"For our customers that are estimate centric, we can show them how they can expand their footprint in the product and as they manage project cost, measure that against the estimate," Willey said. "All they need to do is right click and look at the jobs and cost codes. If they estimated that they would be moving 500 cubic yards per day, well, they can tell what they are really doing. We have very targeted ways of moving data back and forth between different modules of the product, and .expose it in a way that makes sense."
Like higher-end enterprise solutions, B2W also enables customers to create net new fields and define the type of data in those fields, yielding a high degree of customization. This, according to Willey, is a more graceful way to meet specific company needs than trying, as some vendors do, to create unique interfaces for every role in the company.
"One of our products, B2W Track, is highly configurable by the customer themselves," Willey said. "They can dynamically choose the type of fields they want to capture, and the type of data. They can choose what the user experience is like. That way, the same product or same app would solve a number of workflow problems, which is a better approach than trying to customize an app down to one role."
Market and Pricing
B2W is focused on heavy and civil contractors, and Norris said the software will address any civil specialty contracting discipline. Focus areas for the company include site work, highway paving, tunneling, trenchless, municipal sewer and road rehab. From a company size standpoint, B2W will be a fit for contractors with as little as $2 million to $5 million in revenue all the way up to multi-state contractors and the ENR Top 400—Minneapolis-based Mortenson is a customer, for instance.
While $5 million is a comfortable threshold to determine a fit for B2W, Norris said that smaller contractors may also benefit if they have a growth mindset.
"Smaller companies that are growing, or just split off from large companies, may find B2W attractive," Norris said. "If we look at just the estimating module, we have a lot of small customers with one or two B2W Estimate licenses."
Smaller companies considering B2W may also be considering vendors like Constructionlink or SmartSoft for estimating, while larger ones may be also looking at HCSS. Prospects looking at B2W for project management-related tasks may also be looking at Rhumbix or Procore.